Blog Home
September Scones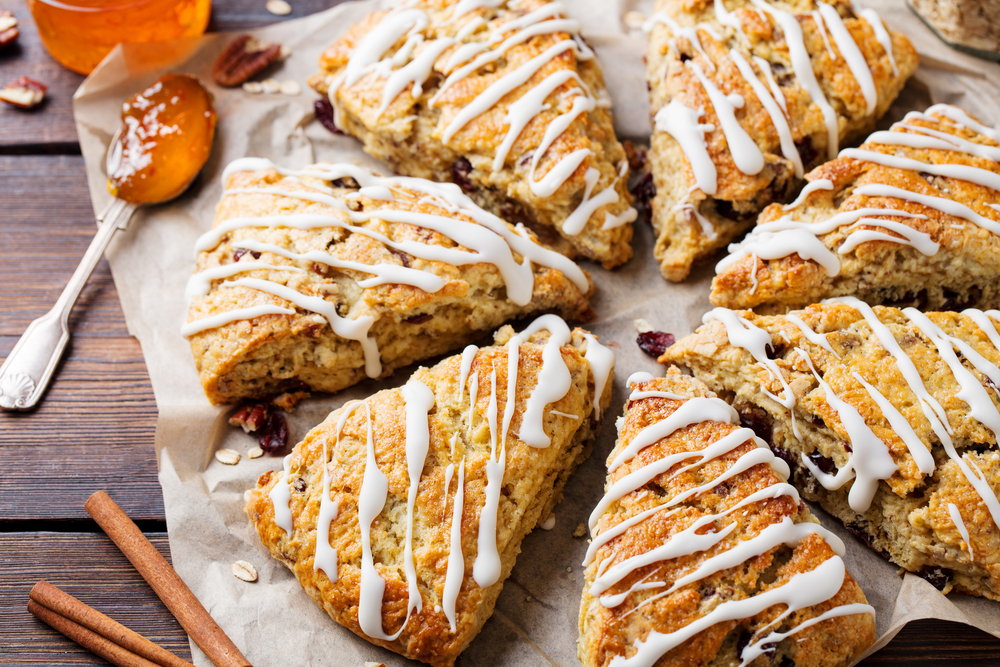 Here at the Biscayne Shores Blog, we have decided that September is for scones. Scones are the perfect treat that is not too sweet, but filling enough to satisfy you and keep you from continuing to snack. Bake some scones this September in your lovely Miami, FL apartment kitchen. Read on for some satisfying scone recipes!
"Tart, chewy dried cranberries and sweet orange glaze add a burst of fresh flavour to these moist and scrumptious scones." You'll need flour, sugar, baking powder, salt, orange zest, unsalted butter, eggs, heavy cream, dried cranberries, milk, powdered sugar, and freshly squeezed orange juice.
"A delectable coffee and maple icing finishes off these buttery pecan and oat scones for a perfect for brunch." Make them with flour, old-fashioned oats, sugar, baking soda, salt, unsalted butter, pecans, heavy cream, maple extract, and an egg. For the frosting, you'll need powdered sugar, whole milk, unsalted butter, brewed coffee, and maple extract. When finished top your frosted scones with chopped pecans (optional).
Blueberry, Lemon and Brie Scones
"The perfect combination of sweet and savoury, these tasty scones are bursting with fresh blueberries and melted brie cheese." Make them with milk, eggs, butter, vanilla extract, flour, sugar, salt, lemon zest, frozen or dried blueberries, and Canadian brie.
These homemade vegan chocolate chip scones are also egg-free, low-fat, and cholesterol free so go ahead, indulge guilt-free! Use flour, sugar, baking powder, salt, vegan margarine, dairy-free chocolate chips, soy milk, and egg replacer.
These scones are fruity, sweet, and perfectly moist. Use flour, baking powder, granulated sugar, salt, butter, heavy cream, strawberries, and pure almond extract. The recipe works best with fresh strawberries, but frozen strawberries will also work.
These scones remind us of thumbprint cookies but bigger! These sweet jam-filled scones are the perfect mid-day treat. Ingredients include flour, sugar, baking powder, salt, lemon zest, shortening, evaporated milk, eggs, and strawberry jam. Make the glaze using powdered sugar and lemon juice. Feel free to replace the strawberry jam with your favorite flavor of jam.
What are your favorite kinds of scones? Share your favorite scone recipes with us in the comments so we can try them out. Thanks for reading our post!