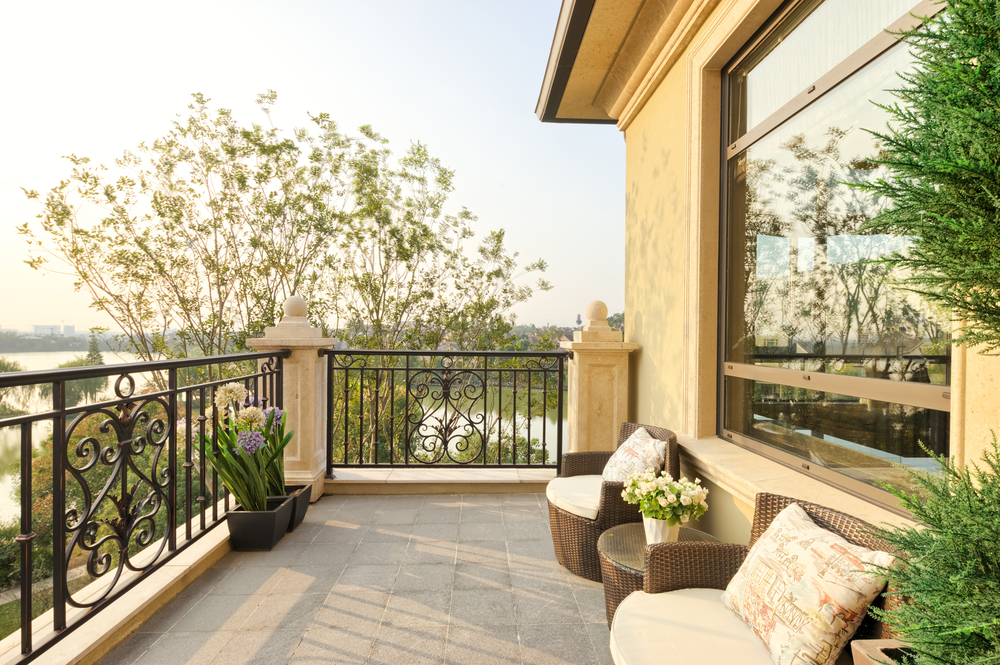 There are all sorts of tips out there for decorating your apartment, but we are here to give you some great tips on decorating an often overlooked and underutilized part of your apartment: your outdoor patio or balcony area, which opens you up to the beauty and brightness of Miami. In this Biscayne Shores Blog post we will provide you with some basic ideas and tips for making your patio space as well decorated as the rest of your apartment.
Start with the Floor
The floor of your outdoor patio is probably made of gray concrete or unappealing tile. Sweep and make sure your patio floor is clean, and then add some fun colors and patterns! Find some easy-to-clean patterned outdoor rugs at Bed Bath and Beyond available in several different sizes. Remember to measure first to ensure you get the perfect sized rug for your outdoor space.
Add Comfortable Furniture
Find the perfect cozy outdoor furniture to lounge in as you read a book while enjoying the warm, sunny Florida weather. Buy outdoor furniture that already have cushions or find your own favorite colored or patterned cushions to add. Consider one of these daybeds from HayNeedle perfect for outdoor naps!
Add Lights
Adding some twinkling lights can turn your patio into a great evening and nighttime hangout space while also adding a great ambiance to your home. String up sparkling lights from Party Lights or find the perfect outdoor lamp or lanterns, for example, from Front Gate.
Use Flowers or Plants
Plants produce oxygen and add a calming feel to any space, so why not consider adding some to your patio? Or, if you want, turn your entire patio into a thriving outdoor garden. Need suggestions for plants to grow on your patio? Read this article from CafeMom highlighting plants that are easy to grow on your patio for ideas.
Add Your Personal Touch
Part of what makes decorating your patio or balcony area so much fun is the fact that you get to be the designer! Give it your own personal twist. The whole purpose is to create a space you enjoy and are proud of. So have some fun and flaunt your unique taste!
We hope you gained ideas on how to revamp your apartment's outdoor patio or balcony area. Have fun with it and redecorate as often as you like. Thanks for reading our post! Share any fun and creative ideas for decorating your outdoor space you have with us in the comments.